Grads of Life's Dr. Marshaun Hymon sheds light on four leader archetypes, their impact on diversity, equity, inclusion and belonging efforts, and actionable steps to accelerate change.
Author:
Dr. Marshaun R. Hymon | Director, Learning & Advisory Services | LinkedIn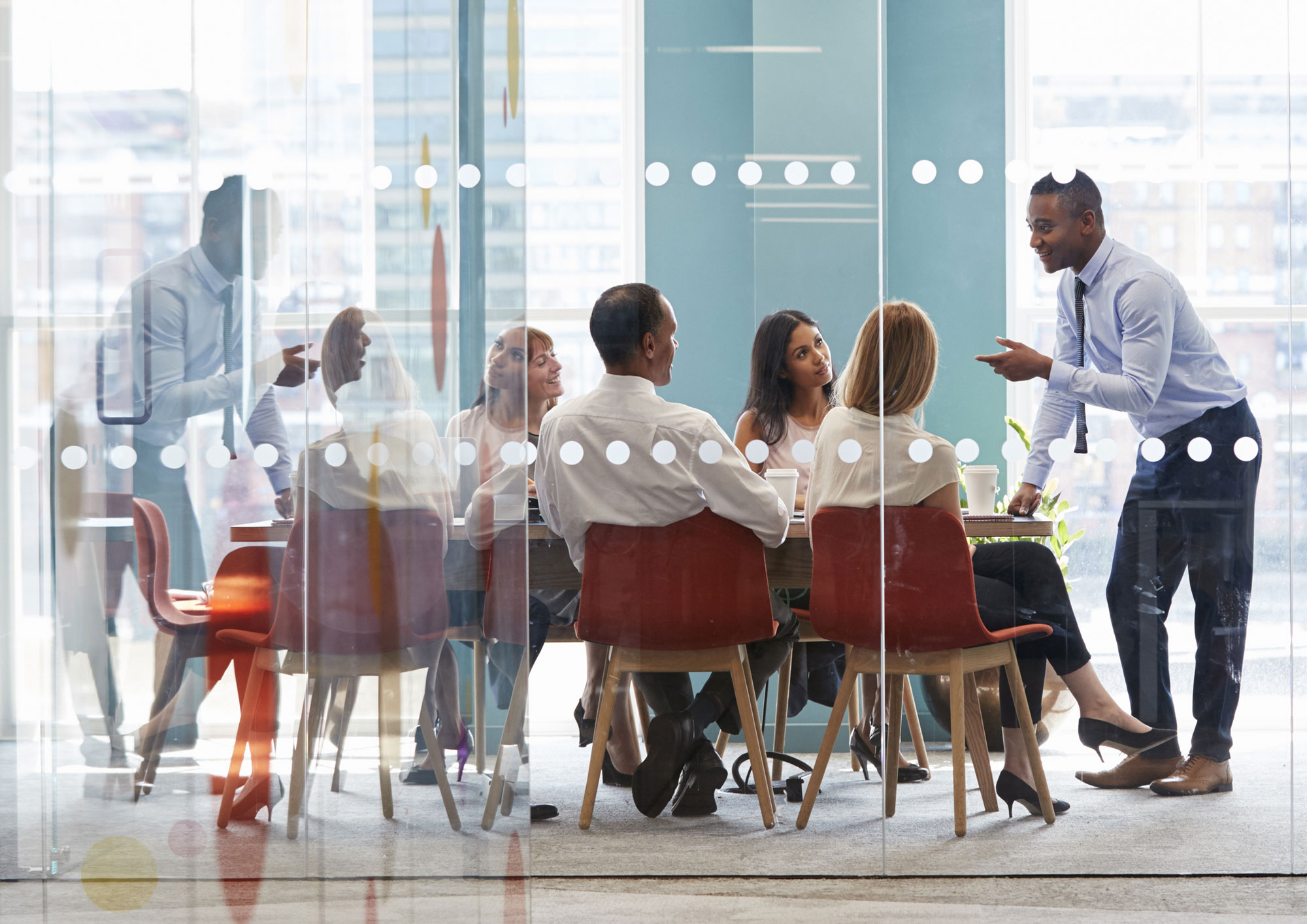 Building a culture of inclusion requires strong leadership. A charismatic leader who confidently speaks about the importance of diversity, equity, inclusion and belonging  efforts can greatly inspire an organization, but, without clear action, that leader will not make measurable progress on DEI commitments. Conversely, a leader who takes clear action without modeling inclusive behaviors and connecting stakeholders to the organizational mission can hinder long-term buy-in and genuine mindset shift. In order to drive significant change that lasts, leaders must simultaneously be strong DEI Champions and implement policies and practices that underpin expected beliefs and behaviors.
The framework below outlines the four leader archetypes that are present in organizations. This will help you identify the type of leader you are, your impact and the steps you can take to move across the spectrum and confidently lead diversity, equity, inclusion and belonging in your organization.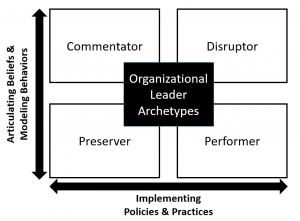 The Preserver
The preserver is a leader who preserves the status quo. They speak infrequently, if at all, about the topics of DEI within organizations. In addition to not articulating beliefs, this person does little to drive policy work around DEI initiatives. This inaction can thwart inclusion efforts and can lead to inequitable outcomes for certain employee populations. These outcomes might be in the form of stunted career advancement, a lack of belonging within the organization, or the experience of microaggressions (small, insensitive comments and slights that, over time, cause great harm).
Learning is the first step in the journey for the preserver. This leader must consider the following questions in order to move in a positive direction:
Where do I experience unearned advantage and/or unearned disadvantage in society?
How do my unearned advantages/disadvantages influence my perception of the world?
What community of socially aware colleagues can I join to accelerate my learning?
The Commentator
The commentator is a leader who has a deep appreciation for DEI work and social change in our world. They speak about this work both inside and outside of the organization and surface these conversations in multiple spaces. If DEI is not mentioned in a meeting, this person surfaces the conversation and ensures that it is a consistent agenda item. The commentator has a strong ability to invoke an awareness of social issues among organizational stakeholders. Seeing that gaining awareness is the first step in someone's diversity journey, this is positive. However, the commentator may unintentionally reinforce the notion of conversation as action. While conversation is crucial, it must be followed up with action to drive change. The commentator can utilize the following questions to activate that change:
What are the current DEI challenges present in my organization? Consider:

Employee engagement scores and pulse surveys
Employee retention/attrition
Diversity recruitment practices & outcomes
Employee advancement practices & outcomes

What is the first step I need to take to solve this challenge?

Collect relevant data?
Develop and communicate specific policies?
Hold managers accountable to existing policies?
Allocate additional organizational resources (e.g., time, money and people)?

What is my desired outcome?

What key performance indicators will I utilize to prove my effectiveness?
The Performer
The performer is a leader who appears to be an authentic advocate for social and organizational change. This person is extremely active in their implementation of policies and practices, outlines many expectations for the organization, and is responsive to organizational challenges. This brand of leadership can ensure that some groups are protected from discriminatory action and potentially exclusive cultures. But, while policies can move organizations in the right direction, they alone can't create inclusion.
Despite some consistent action to support DEI efforts, this leader may not understand the importance of systemic change. Due to this disconnect, policies advanced under the performer's leadership often focus on a narrow slice of the challenge, and lack the context and nuance needed to shift personal behaviors within the organization and create lasting change. Instead, these policies typically come in the form of mandates. Research shows that compliance-based expectations are rarely effective and often lead to worse outcomes. To avoid exacerbating harm, the performer must elicit strong buy-in from stakeholders and ensure a clear understanding of policies. In order to do so, the performer must consider the following questions:
What are the current DEI organizational policies/mandates?
What are the outcomes of these policies? Positive? Negative?

Which stakeholders benefit?
Which stakeholders suffer?

What additional context do I need to communicate to drive behavior change?
What additional learning will support my ability to confidently speak about DEI within my organization?
The Disruptor
The disruptor is a leader who believes in the importance of DEI, communicates this importance to the organization, and implements policies and practices to uphold the behaviors expected of all stakeholders. Under their leadership, organizational change is driven with learning and collaboration, resulting in genuine shifts in mindsets across the organization — the ideal outcome of DEI. The disruptor has realized that DEI is not an element of the work, but DEI is the work: it must be central to, not separate from, all other business operations. If all conversations, decisions and activities are filtered through this lens, organizations can achieve equitable outcomes and create an inclusive culture, leading to greater access for all individuals.
There is, however, one drawback for this type of leader. Being a disruptor can be lonely, taxing and emotionally draining. Honoring the lived experiences of employees, who come with their own needs, beliefs and perceptions blind spots, while balancing organizational dynamics and business practices, can hasten feelings of burnout and despair. To take care, the disruptor must take heed to the following:
Disrupt deliberately. Document roadblocks to organizational change (stakeholders, resources, time, etc.) and intentionally strategize next steps.
Take small, consistent steps. Take first next steps such as draft an email or schedule a meeting.
Reflect on recent successes. Make time to remember what has gone well to ensure sustainability.
Take a vacation. Rest and wellness can be radical acts.
DEI is a journey, not a destination. And, as mentioned above, this model represents a spectrum. While four distinct archetypes have been identified, it is possible to be somewhere in between one or more of these archetypes. It is also possible to move in and out of these archetypes depending on the present situation and the perceived needs of your organization at any given time. As you continue on your journey, pause and reflect on where you might sit on the spectrum – and how you might drive greater change in your organization.